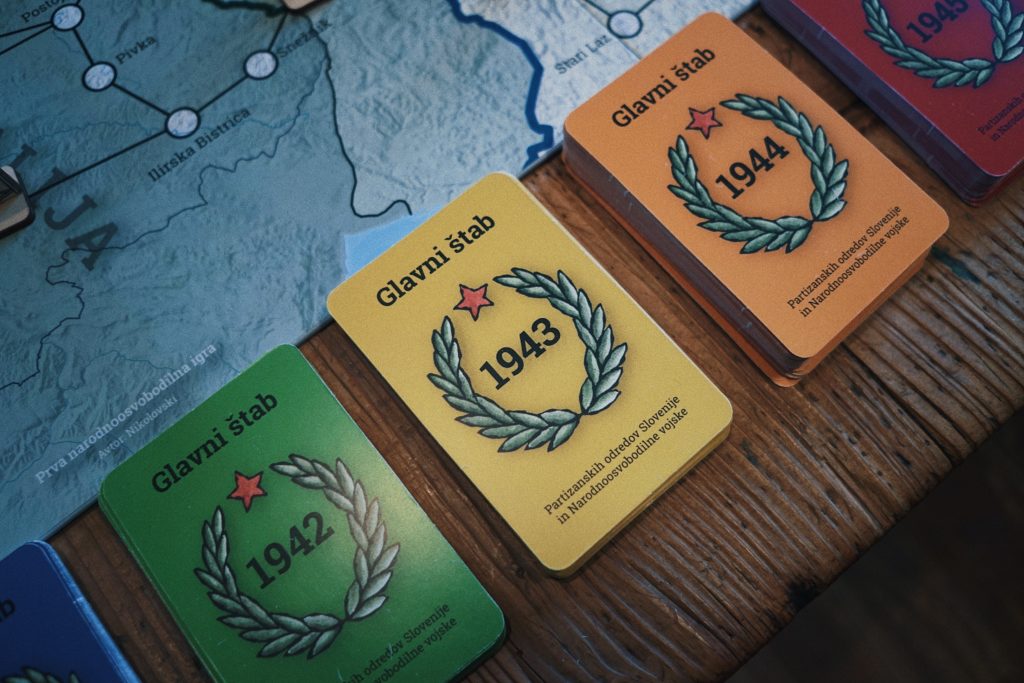 SPECIAL NOTICE FOR ALL PURCHASERS OF JOIN THE PARTISANS!
New game mode!
Game mode – Pioneers
If you want to play Join the Partisans with players under 15 years of age, we suggest the Pioneers game mode.
In this game mode, players only use Command Cards from the General Headquarters (i.e., the game is played without White Outposts (Special Missions) and without the Partisan School) and collect medals that tell who is the best Partisan.
Each player starts with: one partisan figure and one colored enemy outpost.
At the start of the game, each player places his/her Partisan figurine on any position on the map and the players decide who among them starts first. Then the orders from the General HQ for 1941 are distributed.
The cards define the target on which players place their colored outposts.
Using the Movement Cube, all players head towards the destinations written on their General HQ Cards.
When they reach their outpost, players must execute the command (The partisans attack first or The Axis attack first) by rolling 5 dice.
The first player to complete the mission – gets a medal from that year.
When the first player completes the mission, it is the next player's turn. At that point, all players are IMMEDIATELY given orders from the General HQ from the following year!
Thus, the players move to the next year at the same time and the round starts anew.
The winner is the first player to complete the orders for all 5 years of the war (5 tasks).
The People's hero is the one who has the most medals.
Nov igralni način!
Igralni način – Pionirji
Če igrate igro Join the Partizans prvič, ali če igrate z igralci, mlajšimi od 15 let, predlagamo način igre Pionirji.
V tem načinu igre igralci uporabljajo samo karte iz Glavnega štaba (tj. igro igrajo brez belih postojank (posebne misije) in brez partizanske šole) in zbirajo medalje, ki povedo, kdo je najboljši partizan.
Vsak igralec dobi: eno figurico partizana i eno barvno sovražnikovo postojanko.
Na začetku igre vsak igralec postavi svojo figurico partizana na poljubno mesto na zemljevidu in igralci se odločijo, kdo izmed njih začne prvi. Nato so razdeljeni ukazi Glavnega štaba za leto 1941.
Kartice definirajo cilj, na katerega igralci postavijo svoje barvne postojanke.
Z uporabo kocke gibanja se vsi igralci odpravijo proti ciljem, ki so napisani na njihovih karticah Glavnega štaba.

Ko pridejo do svoje postojanke, morajo igralci izvršiti ukaz (Prvi napadajo partizani ali Prvi napada okupator) tako, da vržejo 5 kock.
Prvi igralec, ki dokonča misijo – prejme medaljo iz tega leta.
Ko prvi igralec zaključi misijo, je na vrsti naslednji igralec. Na tej točki vsi igralci TAKOJ prejmejo ukaze Glavnega štaba od naslednjega leta! Tako se igralci istočasno premaknejo v naslednje leto in krog se začne znova.
Zmagovalec je tisti igralec, ki prvi opravi ukaze za vseh 5 let vojne (5 nalog).
Narodni heroj je tisti, ki ima največ medalj.
Novi način igre!
Način igre – Pioniri
Ako prvi put igrate Join the Partizans, ili ako igrate s igračima mlađim od 15 godina, predlažemo mod igre Pioniri.
U ovom modu igre igrači koriste samo karte Glavnog štaba (tj. igraju igru ​​bez bijelih stupova (specijalne misije) i bez partizanske škole) i skupljaju medalje koje govore tko je najbolji partizan.

Svak igrač dobije: jednu figuricu partizana i jednu neprijateljsku stražarnicu u boji.
Na početku igre svaki igrač postavlja svoju figuru partizana bilo gdje na karti, a igrači odlučuju tko od njih prvi počinje. Potom se dijele zapovijedi Glavnog štaba za 1941. godinu.
Karte definiraju destinaciju na koju igrači postavljaju svoje obojene neprijateljske stražarnice.
Koristeći kockicu za kretanje, svi se igrači kreću prema ciljevima koji su napisani na njihovim karticama Glavnog štaba.
Kada dođu do svog cilja, igrači moraju izvršiti naredbu (partizani prvi napadju ili okupator napada prvi) bacanjem 5 kockica.
Prvi igrač koji završi misiju – dobiva medalju iz te godine.
Kada prvi igrač završi misiju, red je na sljedećeg igrača. U ovom trenutku, svi igrači ODMAH dobivaju naredbe iz Glavnog štaba počevši od sljedeće godine! Dakle, igrači istovremeno prelaze na sljedeću godinu i krug počinje iznova.
Pobjednik je igrač koji prvi ispuni naredbe za svih 5 godina rata (5 misija).
Narodni heroj je onaj s najviše medalja.